Yesterday evening my friend wanted to try his new Koreans and so I accepted the challenge and took command of the house Takeda. Ok from a purist point of view the Takedaclan had already met it's doom at Nagashino when the Invasion of Korea took place but I was to lazy to repaint my figures

We played with 330 points - a small and quick game to see how the Koreans work. Unfortunatly it was too dark to take pictures without the flash so the paintjobs don't look as good as in reality but oh well...
The Korean army had 2 commands. Their Infantrycommand with the rocketartillery deployed behind a wood and a field of broken ground (the "high grass") while their cavalrycommand tried to make a swift attck using the free space on their right side.

If you think the cavalry looks a bit outlandish -  your eyes don't deceive you. My friend didn't manage to finish the paintjob on them in time and so the Koreans were forced to "hire some of his Ayyubids" to take their place

I also went for 2 commands and as my deployment zone was cut in 2 halves by a wood in the middle of the zone and I grouped my Samurai in one command and deployed them to the left side of the wood while my second command was made of my Ashigaru on the left side of the wood.

My plan was to let the Ashigaru advance with their Yumi and Teppo in the first line and to cause as many damage with shooting as possible. when the cavalry would come too close the Yari would advance before them and protzect them from the enemy cavalry.
On the riht side the mounted samurai would ride around the wood and attack the enemy cavalry in the flank and hopefully break them. Meanwhile the Samurai on foot would protect their flank and back ba giving a warm welcome to any koreans foolish enough to leave the protection of the woods.
Well that was the plan...
The
Ayyubid
Korean light horse advanced quickly against my bowmen showering them with arrows rom less than 5U - the Bowmen countered with their deadly longbows and nothing happened. Although the units could have touched each other with their fingertips and the resulting lot of shooting dice both units managed to score not a single hit - what a "heroic" sight all the ones and twos and the occasional four have been...
My teppo did a much betterjob and destroyed one of the Korean CM and my Samuraicavalry manoevered themselves in a good position for an Attack - things looked good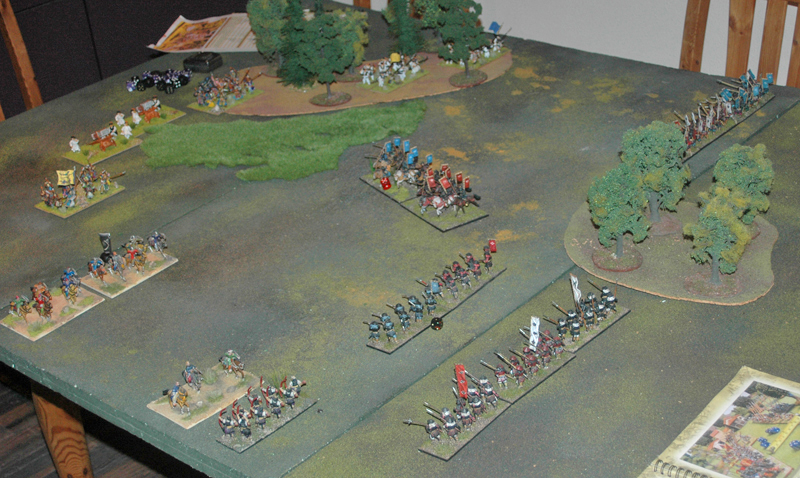 But then the Koreans showed their teeth. MC attacked my teppo and with a combined shootingattack followed by a fierce charge they destroyed two of the teppounits and broke through the line...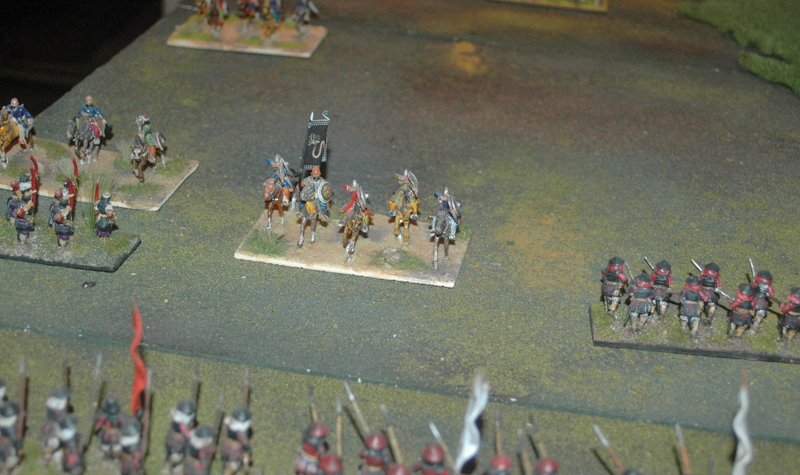 But what was worse - their Artillery scored an awful lotof lucky hits on the Samuraiunit that had my CinC included and shot it to pieces... Fortunatly the loss of the General had no further consequence to the army except that I lost my +2 modifier on activations... This was partially compensated because my other general rolled a double 6 and his modfier went up from +1 to +2 - still...
To make things even worse I found out the hard way that those pesky large units of light infantry were capable of shooting too as they started to shower my foot samurai with missiles.
Suddenly things didn't look as bright anymore... I decided to react like a true Samurai and went for an allout attack. My cavalry would charge one of the Korean CM even if had to take the risk of disorder because I needed 2 movement pahases to reach them. My Ashigaru with yary would attack the other MC and the foot samurai would charge the Koreans in the woods. Again 2 Movementphases were necessary but as they would be disordered anyways when entering the woods - so what.
First my foot Samurai commenced their charge and their determination payed off they scored 4 remarkable hits while the Korean rolled a six on their cohesion test...
And although they were a large unit they lost the combat (scoring no hit) fell back but only 1U and were catched by my pursuing Samurai (who still had their Impetusbonus) and another retreat later both large units were annihilated as they were cought a second time. In the 2 followups I also lost one of the Samurai units but the result was still satisfying.
Next my Ashigaru attacked the CM and routed them from the field but I lost two of them also. now my Ashigaru command as well as the Korean cavalry command wee on the edge of breaking. The cavalrycharge would decide the outcome of the battle - very cinematic

My Samurai charged and take a look yourselve: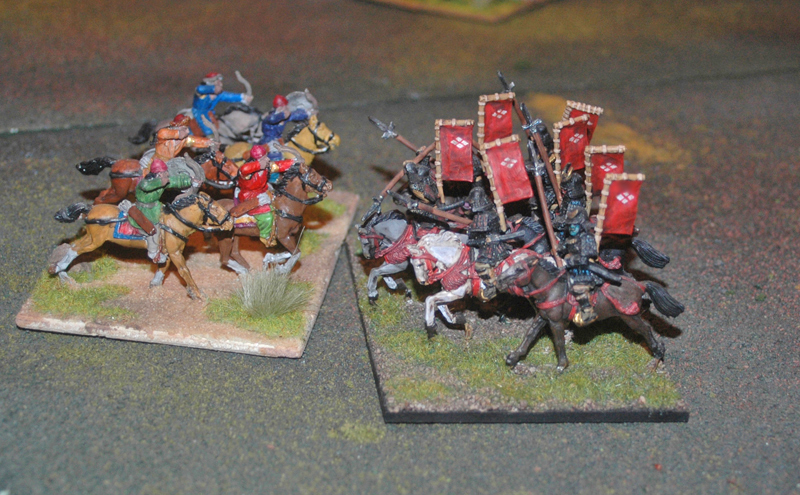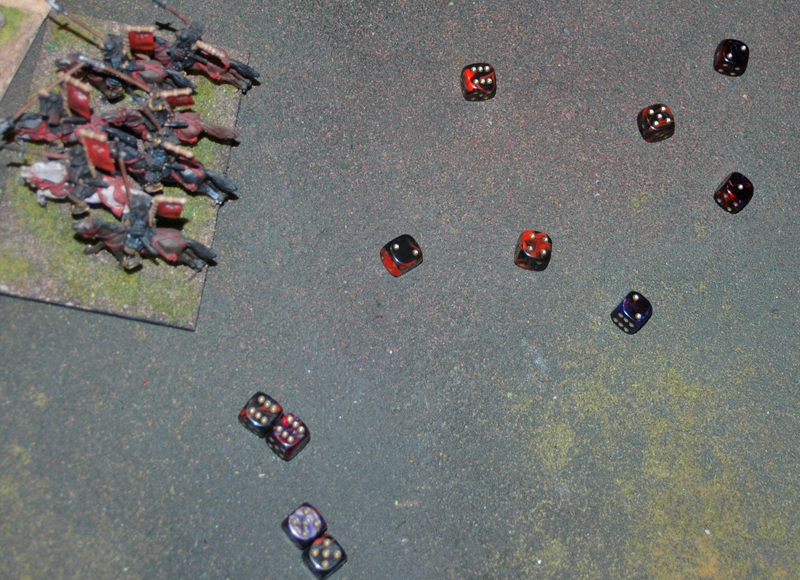 Almost movielike the last Korean CM was annihilated. Their cavalry command was broken and their army now had lost more than half of it's VD - victory was only two activations away and the Koreans hadn't much left to activate

First the last CL tried to shoot down my Bowmen one last time before leaving the battlefield but again they managed not to score a single hit. Now only the Korean Infantry command was left to be activated. None of the remaining had an enemy they could reach this round but one of their rocket bases could draw a LOS to my last Teppobase. They rolled their 3 dice and scored - 6, 6 and another 6. Needless to say that my cohesiontest was also a six and they were destroyed. Now my Ashigarucommand broke also and having lost 2 Samurai units also my army was over it's breakpoint too.
And therefore the battle ended in a draw which was enjoyable for both of us.
We really had a good tome in this game and there was a lot of laughing also.
The Koreans are fun army to play and also to play against. Though they lack the powerful units the Samurai have their CM is really good (VBU 6...) and with their many missiletroops they are quite capabel to wear down the Samurai and afterwards take on them in melee.
Some more impressions of the game - hope you enjoy...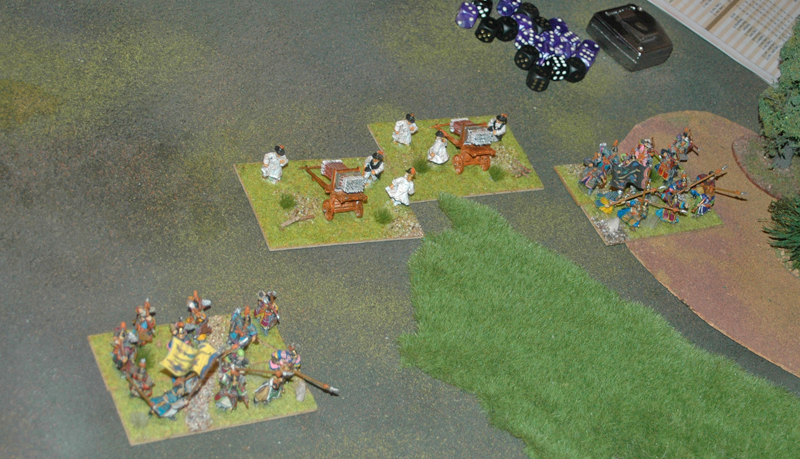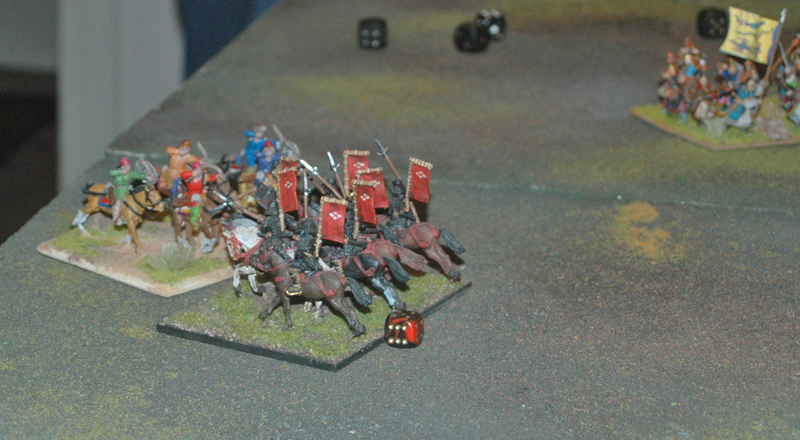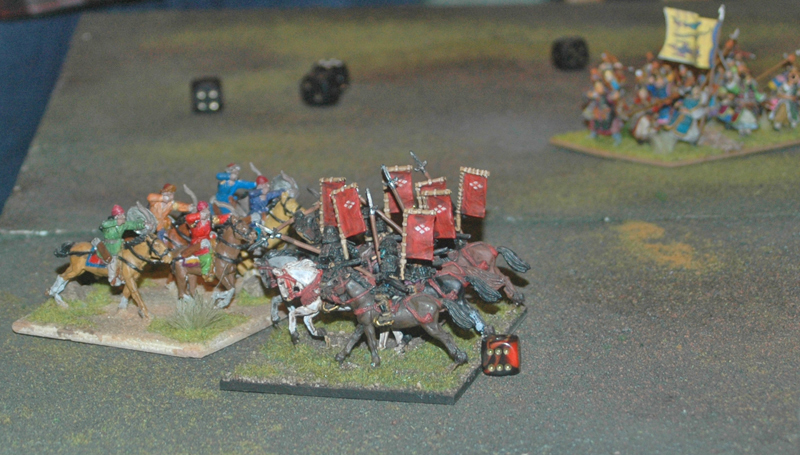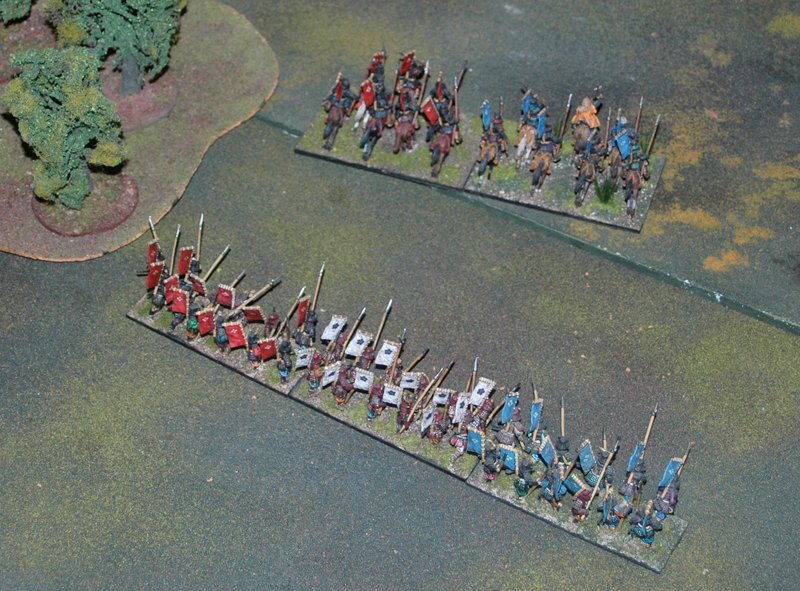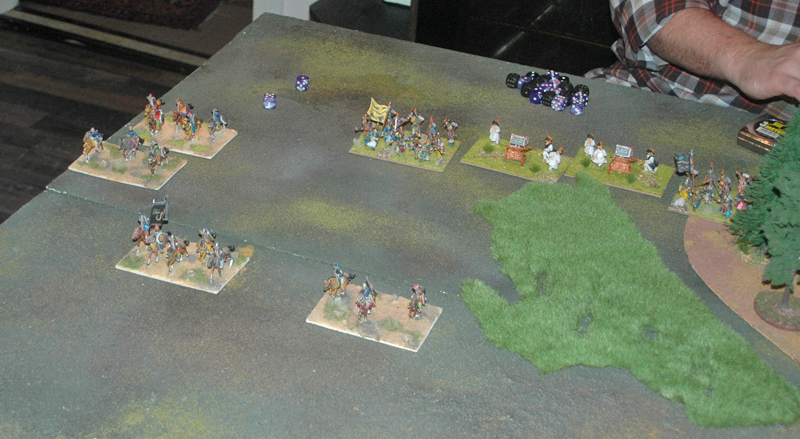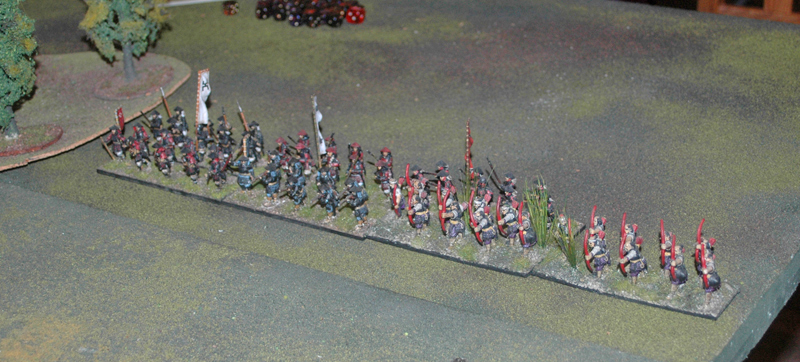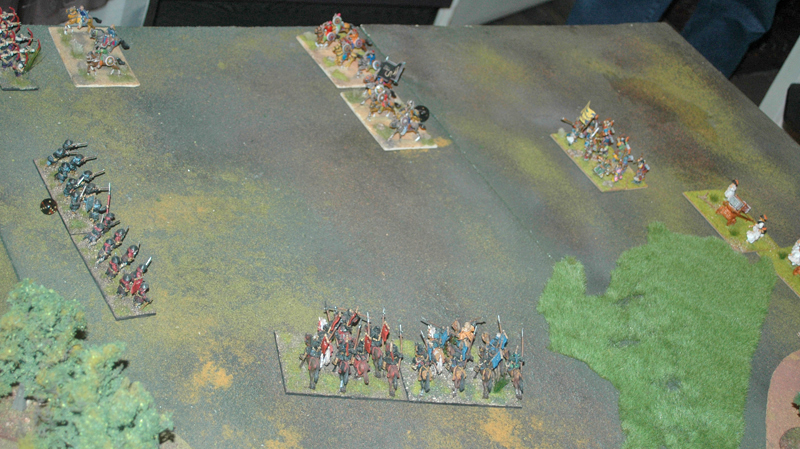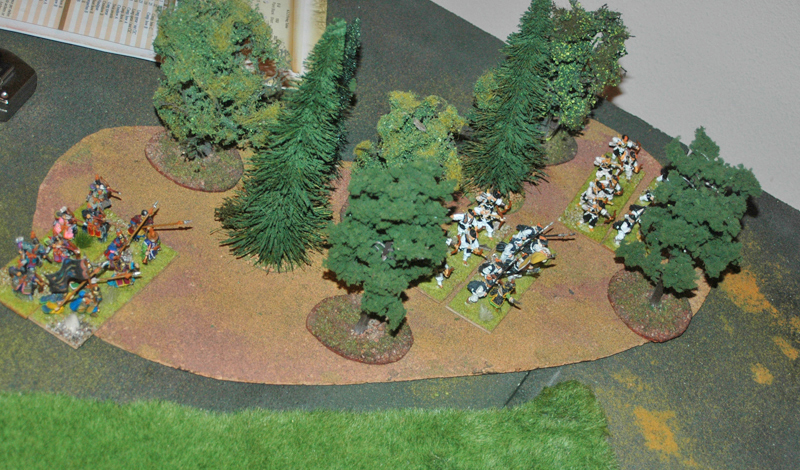 Last edited by Greymouse on Mon Jul 24, 2017 1:01 am; edited 1 time in total

_________________
"So first of all they are very polite and second they don't mean it."
(Christoph Waltz about the Austrians)
Admin





Posts

: 246


Reputation

: 8


Join date

: 2014-05-16


Age

: 50


Location

: Austria



Nice account of an interesting battle

Jim
VBU 7 h.c.





Posts

: 539


Reputation

: 18


Join date

: 2014-05-19



Thanks for posting looked like a good game.
I like the rocket artillery the Koreans can have... sounds like it was effective as well


VBU 7 h.c.





Posts

: 569


Reputation

: 9


Join date

: 2014-05-19


Location

: SYDNEY



Anytime

The Rockets are not bad they were shooting at my General's unit from turn one and already had managed to waer the Samurai down to VBU5 mostly through accumulating disorder when both of them scored a hit before the really desastrous lucky dice roll. They also profited from our deployment which was along the short table edges. This made them very difficult to reach with a melee unit.
But overall the resulting deeper table was very interesting to play as we needed more rounds as usual till the armies clashed and it gace room for the cavalry to move along the enemy battle line in a relatively safe distance before choosing the point of attack. This is very interesting from a tactical point of view as it enables you to attack on a different place than your opponent had anticipated from your deployment.
As my terrainboards are beginning to look a bit worn I plan to make new ones thei spring. and after this game we decided that our new table will be at last 200cm by 150cm if not 240cm by 180cm.

_________________
"So first of all they are very polite and second they don't mean it."
(Christoph Waltz about the Austrians)
Admin





Posts

: 246


Reputation

: 8


Join date

: 2014-05-16


Age

: 50


Location

: Austria



nice report, thanks for sharing!
Admin





Posts

: 999


Reputation

: 40


Join date

: 2014-05-15



---
Permissions in this forum:
You
cannot
reply to topics in this forum