Hoping to post a few pictures of a re-fight played recently using Impetus rules and armies created based on the battle description in Sir Charles Osman's old book "Art of War in the 16th Century.
Hoping the image below will show the battle lines from behind the French line - with the Swiss and French Gendarmes on the hill and Imperialist line in the distance
If you know this battle the French won the battle with the Swiss on the centre/right of the battle line but lost on the left against veteran German and Spanish troops - these then slowly retired from the battle when they realised the battle had been lost on the other flank.
Needless to say our refight did not follow this pattern.
More pics to come  ... hopefully.
Cheers Jez
Last edited by jeztodd on Mon Sep 19, 2016 3:38 pm; edited 6 times in total (Reason for editing : Picture Problem)
Last edited by jeztodd on Mon Sep 19, 2016 3:48 pm; edited 1 time in total
Dear All - just trying to get the hang of posting pictures so grateful if you could let me know if these appear OK? Hopefully size not too big??
Anyway this final picture is from behind the Spanish / Imperialist line (some English Tudor appearing to be Italians) but you can still see the Gendarme charge.
Overall victory to the Imperialists as they finally crush the Swiss and French troops on the right.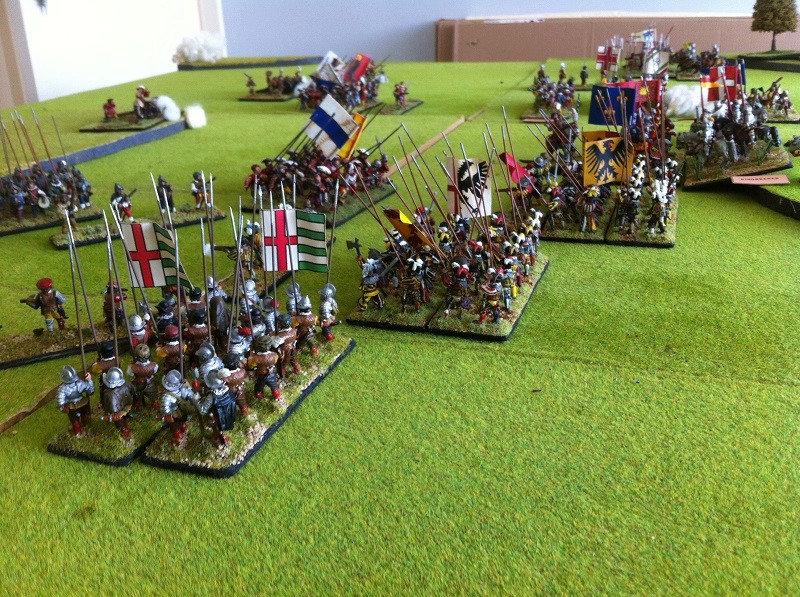 Cheers Jez

Similar topics
---
Permissions in this forum:
You
cannot
reply to topics in this forum