Dear All
Repeat action for Rome v Carthage - this time I am playing Rome - seen bottom of the screen. Centre Hastii and Princeps in a straight line with single supporting unit in rear.
This picture shows impact of the two Gaul warbands - taking out a Roman unit straight away and creating a gap
This is a shot from behind Roman right flank - Carthage Spanish troops coming off hill
The Carthage flank general - although he lost this flank and is about to lose and rout he managed to take out two Roman units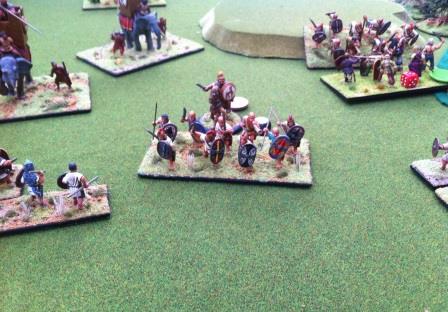 Carthage ground through in the centre for victory - What happened to the Carthage Elephants ... nothing much they were bounced back by Roman skirmishers. Matt and I have now both lost using the Romans.
Cheers Jez
Last edited by jeztodd on Mon Nov 27, 2017 6:10 pm; edited 2 times in total (Reason for editing : Links)
VBU 3





Posts

: 209


Reputation

: 6


Join date

: 2014-05-19



Why did you have your Roman front line units staggered? If they were in one solid unbroken line you would have all five of them fighing the enemy charge and they can support one another. To have two units behind the front three means only those three will be in contact with the enemy when they charge. A sure way to get beat, I would have thought. I always ensure my phalanx is a solid body from end to end.
VBU 2





Posts

: 96


Reputation

: 0


Join date

: 2014-06-07



Yes I always avoid having gaps in the infantry line if at all possible
VBU 7 h.c.





Posts

: 539


Reputation

: 18


Join date

: 2014-05-19



Hi yes was trying to keep or show difference between Hastii and Princeps but a solid line would probably have been better. Another option is to field Roman infantry as large units. In the centre could then field 3 large units and a few skirmishers to meet maximum VD amounts for the centre command. Those 3 large units should be very powerful though.

Will try that out next time .........

Cheers Jez
VBU 3





Posts

: 209


Reputation

: 6


Join date

: 2014-05-19



We've been playing a few BI-Big Battles lately as well, they've been most enjoyable. I should post some pictures up in here.
Nice Jez
VBU 7 h.c.





Posts

: 569


Reputation

: 9


Join date

: 2014-05-19


Location

: SYDNEY




Similar topics
---
Permissions in this forum:
You
cannot
reply to topics in this forum